My fourth trip to AWA, this time I was accompanied by members of the WCU Japanese Animation Society. Eight members total took the trip to AWA from Cullowhee, North Carolina (a 2½ hour drive), two and a half times bigger than last year. The one little irony of this convention was that it was hosted in Duluth, not in Atlanta. But I guess Anime Weekend Duluth just sounds stupid.
Again like last year, the convention itself was bigger than the hotel it stayed in. They believed over 2000 some people showed-up at this event, making it the biggest ever yet. The convention had things you would expect plus a few extras, which were: Two Video Rooms, Video Games Room, RPG Room, Hong Kong Live-Action Room, Two Dealer's Rooms, and the Con Suite.
The Guest of Honors were Mari Iijima, she was the Japanese Voice Actress of Lynn Minmay of Super Dimensional Fortress Macross, and Peter Fernandez, American Voice Actor of Astro Boy, Gigantor, and Speed Racer. Other guests included Steve Bennett (from Studio Ironkat), Michael Brady (American Voice Actor), Jessica Calvello (American Voice Actress), Tiffany Grant (American Voice Actress), and many more.
The best events at Anime Weekend Atlanta were the Cosplay, Japanese Animation Hell, Battle of the Fan Parodies, Music Video Contest, and the Closing Ceremonies. The most disturbing events were the Dance and the Pokémon Tournament. The coolest panel was the "Network with the Cartoon Network," the panels that I wished to have also visited were "Drawing Manga" and "Working with Evangelion." The panel I wished I had avoided was "The Worst Anime I've Ever Seen." Overall, it was a awesome convention, which I will be participating again next year.
Most Common Costume Themes
Fushigi Yuugi and Slayers

Best Costume
Cleft, from Magic Knight Rayearth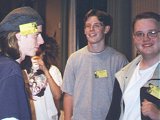 The WCU Anime Gang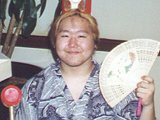 They call him Mama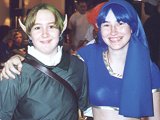 Kawaii Anime Elfs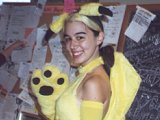 Who's that Pokémon? It's Pika-Babe!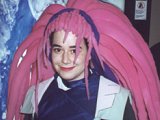 Washu-chan!!!